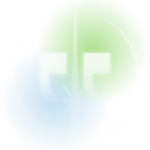 For Green Baron, Parsec has been more than just tech support. They've maximized our hardware, updated and coached us as to which software is best suited for our specific needs, protected our data and been there to service us quickly when needed.

As a landscape maintenance company providing multiple services for thousands of customers, it's absolutely imperative that our computers work and the programs run efficiently for us to schedule, provide services, follow-up, collect data and provide accurate, timely billing. We're not computer experts, but sometimes we need them. That's why we've been partners with Parsec for nearly thirty years.
In the ever transforming world of technology, it is vital for us to have the essential tools and services required to serve our clients. Parsec has been providing us with I.T. support services for over a decade and have been an integral part of helping our business grow, by understanding our needs and keeping our infrastructure up-to-date and secure. Whether it is building custom workstations, servers, or helping us troubleshoot software issues, the sales and support staff at Parsec have been responsive and accommodating and will go the extra mile to make sure we maintain our workflow. The support team is always proactive and up to speed on the latest gremlins that have the potential to disturb our system and are able to find timely solutions to minimize our downtime and avoid disruption. Their support permits us to be focused on our clients.
Parsec Computer is one of the best companies I have worked with. We have been a customer for over 18 years and value their experience and support. They provide excellent service and our purchases have been reliable.

They also help us maintain HIPAA standards. I would recommend Parsec to anyone needing IT support.
We trust Parsec to manage all our Information Technology activities so we can focus on our business operations. Their management of our software licenses, network, servers, new computer setup, security, and help desk gives us the feel of having a robust IT department at a fraction of the cost. We truly appreciate their quick and personal response to critical issues we have had in the past and their focus on keeping our information secure.
I am writing this recommendation for Parsec Computer as they have been invaluable to the day to day operations of our company. As our off-site IT servicer, they have been instrumental in setting up our communications system from server all the way down to each individual laptop and user. Having them to rely on allows us to not have to employ someone in-house to take care of our daily needs. Whenever issues arise, Parsec's team is always available to help us resolve them in a timely manner. Having their services for offsite cloud backup storage as well provides an extra layer of protection and peace of mind. We recommend Parsec Computer to anyone looking for someone to service their IT needs.
We have used Parsec Computer for years. We have always been very satisfied with their knowledge & customer service in helping resolve all of our internet/computer issues. We would highly recommend them for all of your internet service needs.
We have partnered with Parsec for over 25+ years and are continually impressed with the service and responsiveness of this company. They are always prompt with any issues that arise and have the knowledge base to know how to get things done correctly in a timely manner. Great customer service and positive attitudes all around!! Couldn't ask for a better company to grow with!